There is nothing more exciting for brides-to-be than going out shopping for their wedding dresses! Of course, the ideal decision of any fashion-lover would be to browse through the huge piles of white dresses! Some people think that buying white wedding gowns is an easy decision to make. But to be trying something so conventional, you need to embrace perfection to stand out.
There is no room for error when it comes to choosing the perfect white gown for yourself. The first thing that you need to note is that white isn't just a single color, but a whole spectrum!
How to Choose the Best Shade of White for Yourself?
White dresses are eye-catching, and are sure to draw everyone's attention to you. Therefore, you need to find the perfect match for yourself. There are a lot white dresses for girls that might seem beautiful externally, but will not appear as appealing when you're wearing it. Finding a dress that is compatible with all of your features is a task that is as rewarding as it is difficult.
The main difference between white dresses and ivory dresses lies in the warmth of their tone. While white is a bright color that appears almost blue when you subject it to direct sunlight, ivory offers a warmer shade. White is pure, and does not host any other shades, while ivory offers slight creamy hues.
Of course, if we follow the traditional scheme, then most of the brides would opt for a pure white shade. But the wedding industry has changed a lot in the recent years. The unconventional ivory gowns are commonplace in the market, and they look absolutely stunning!
How to choose the right shade for your skin tone?

As is mentioned before, choosing a dress that fits perfectly with your appearance is the key to a successful affair. The number one factor that you should focus on is your skin-tone. It is of the utmost importance that we choose a shade of white that complements our natural skin tone.
The "pure white" wedding dresses, though gorgeous, tend to overpower pale skin-tones. As a result, the color of the dress washes out the natural glow of your body. That is why a pure white gown would look excellent on a dark, or an olive skin tone. At the same time, an ivory ball gown can bring out the inner beauty of a person with a paler skin tone.
Now, let us talk about some shades of white and ivory in detail:
1. The Diamond White

As we mentioned before, wearing pure white dresses can appear too strong for your skin-tone. Not only will this affect your appearance on the stage, but might also ruin the color and lighting of your wedding portraits and photographs. That is why most fashion experts prefer the softer shade of the diamond white color for any sort of white dresses.
The diamond white shade is flattering for a wide range of skin tones – from olive to brown, and even on pale complexions.
Diamond white dresses for weddings work especially well with satin designs. The sharp contrast helps to bring out the natural glow of your skin, and makes you look absolutely stunning.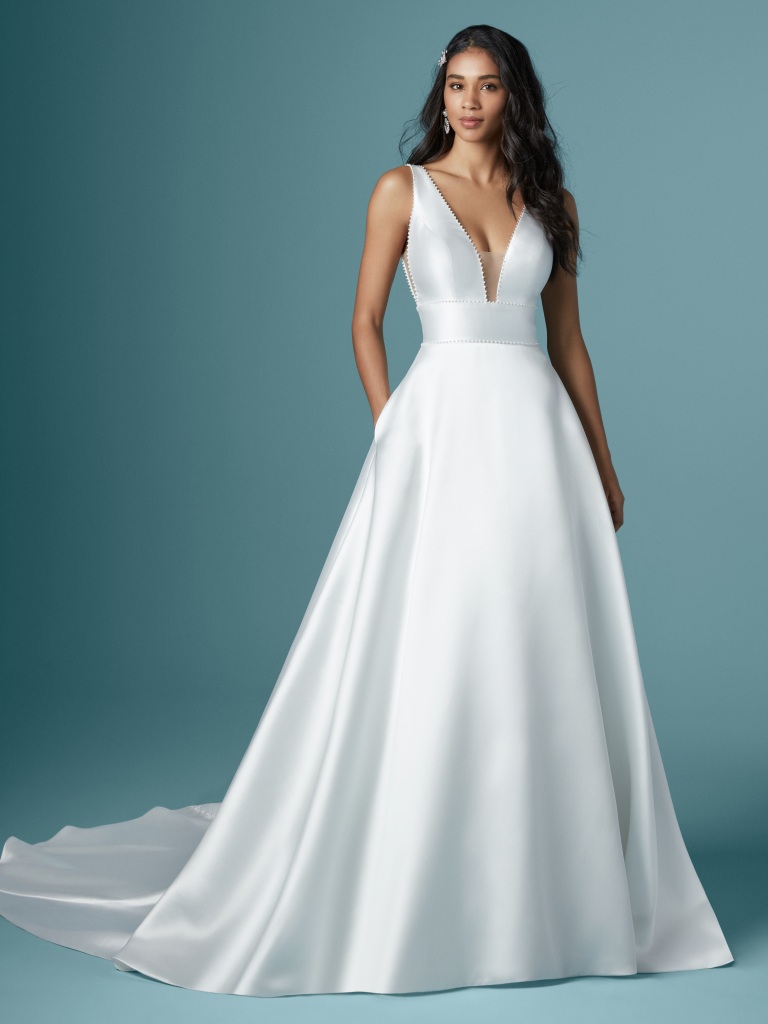 2. Champagne Wedding Gown

This is a type of ivory wedding gown for bride. From afar, one might even mistake it for pure white. But it contains subtle undertones of a dazzling golden color. This mixture of white and gold evens out the balance and makes the skin tone stand out more. This color goes extraordinarily well with darker shades of skin.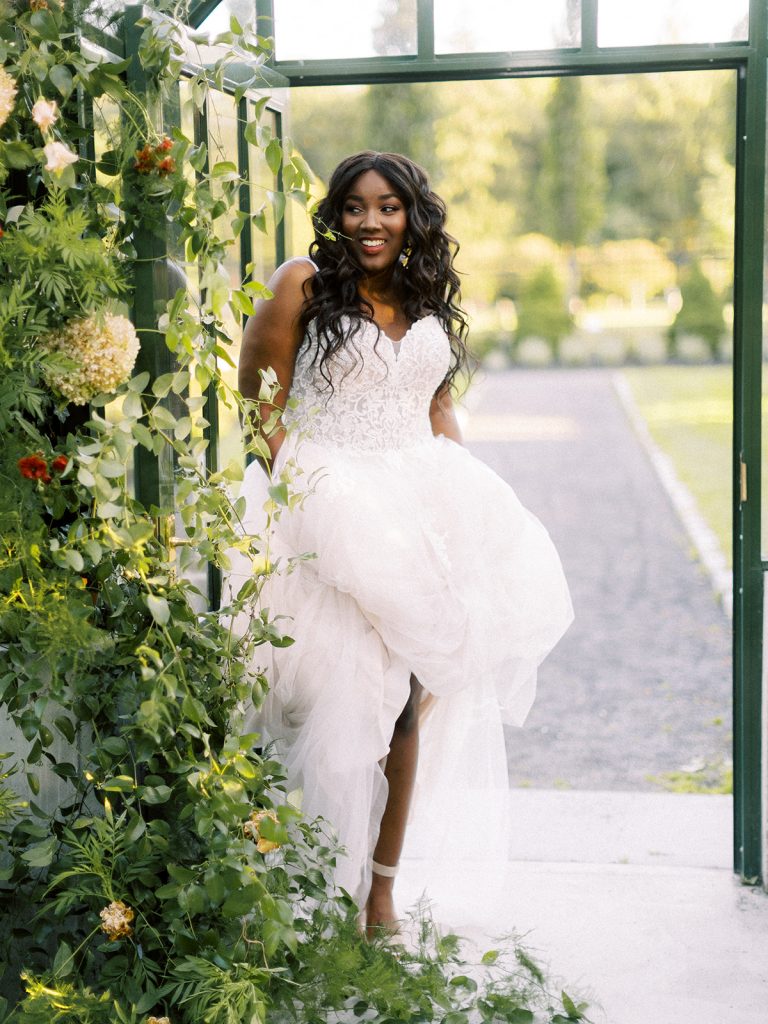 3. Blush Wedding Gown
Are you tired of seeing people overuse the same type of white long dress at weddings and other formal gatherings? Here's what you can do to beat the conventional norms; don a beautiful blush-colored ball gown wedding dress.
There is a lot of confusion between the diamond and the blush color alternatives when it comes to gowns. But the difference lies in the fact that the blush gowns have pink undertones, instead of golden. These undertones make the pure white appear a little less harsh. They look particularly flattering on pale, and lighter complexions.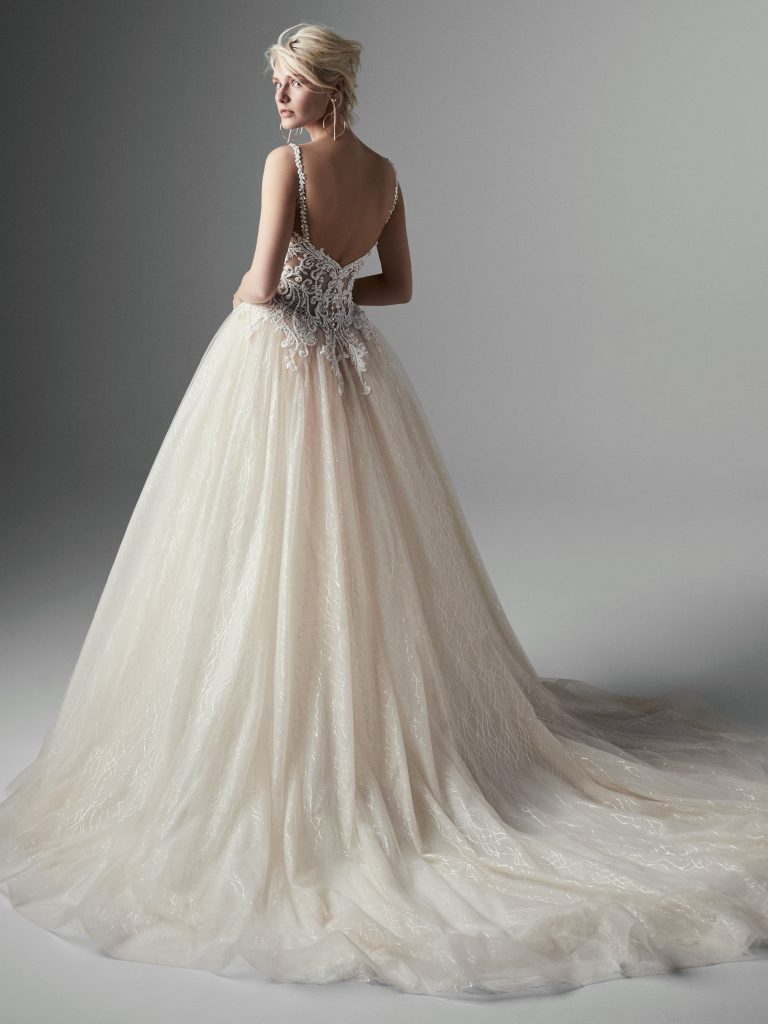 4. The Pearl Bridal Dress
The pearl, like the champagne shade, consists of golden undertones. The main difference between the two lies in the fact that pearl has richer golden undertones in comparison. This color looks absolutely stunning for dresses that we purchase for summer and warm weathers. It can accommodate a wide range of skin tones, but looks particularly radiant on lighter complexions.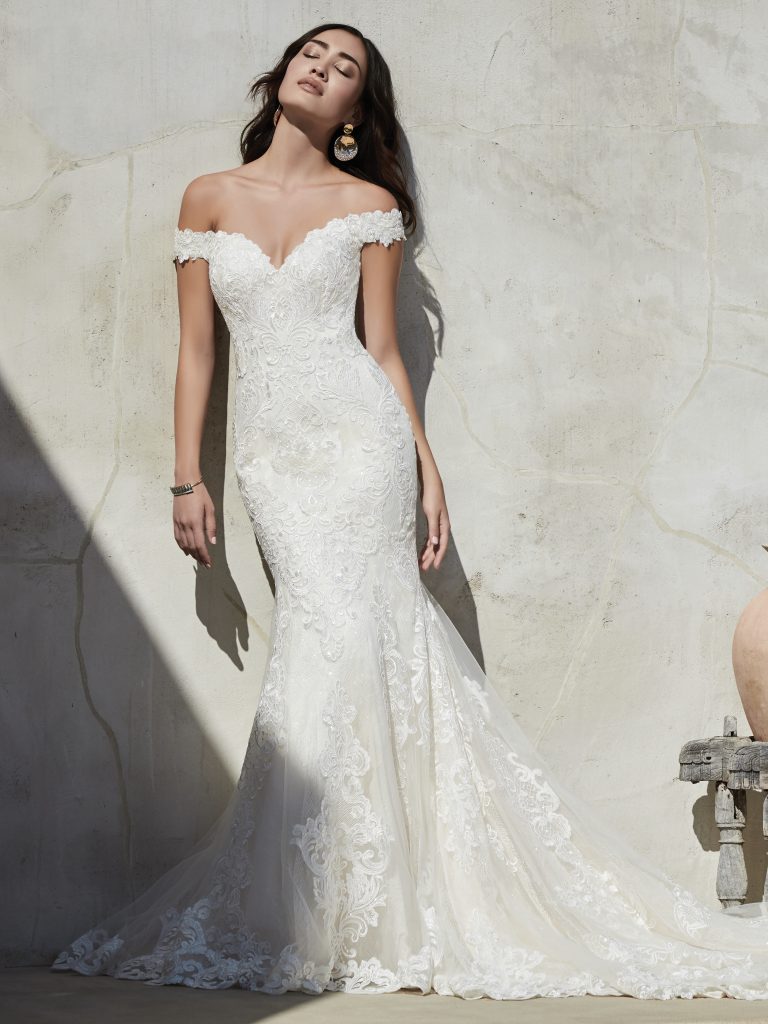 5. Alabaster Color

In many ways, alabaster is a symbol of purity. Perhaps this might be the reason why the wedding industry is so keen to use this particular color on some of the most stunning ball gown dresses in the market right now. In contrast to the usual stark white color that we see, alabaster contains strong undertones of creamy tones, and appears much lighter than your standard white ball dresses. Fashion experts all across the world agree that this color flatters almost every skin tone, and works well with an iridescent color pallet.
6. The Stark White Wedding Gown
We've come a full circle talking about the different shades of white and ivory. The stark white is the whitest shade that you will be able to find in the market. It is perfect for brides that aspire to make a strong statement at their wedding reception. The start white color can make you look angelic. But the idea of wearing something so harsh, and bright, can also prove to be a little risky. You should keep in mind that the balance between your skin tone and the color of your dress is crucial. If you have a pale, or a light complexion, then donning a stark white apparel will wash out your natural skin tone. That is why, this type of color is best suited for those with a darker, or a tanner skin tone. It also works wonder with olive skin tones.
Types of Gowns:
1. Mermaid Gown
The mermaid gown is popular for its slim fitting. Unlike the other types of gowns like the ball gown, mermaid gown sticks close to the bride's body, and doesn't flare out the waist.
2. Trumpet Gown
Trumpet gowns are similar to mermaid gowns. The difference is that trumpet gowns flare out as they go down. This creates a trumpet like shape, making it look elegant, and also easier for the bride to walk around.
3. The Sleeveless A-Line Pleated Gown

If you are looking for something sober and simple, but elegant, this is the dress for you. It is best suited for the summer climate, and you can wear it at any formal parties. If you're daring enough, you might even try it on your big day! It is a sleeveless party gown, with intricate designs in the middle and a standard V-neckline. It makes you look classy, and elegant at the same time.
4. The Off-Shoulder Party Gown
This is a little different than what you'd expect in traditional indian wedding dresses. The primary defining feature lies in its off-shoulder neckline. It gives you the appearance of royalty, and helps you maintain a stature of confidence. Moreover, white looks absolutely stunning on off-shoulder party dresses.
5. The Beach Backless Long Gown

As the name suggests, this is a backless maxi of sorts. Although it might appear informal to someone too uptight about their fashion sense, it is a great formalwear as well. It is comfortable to wear, and makes you look absolutely stunning. Pair it with matching sandals and high heels and you're all set to go!

In conclusion, we think it is safe to say that a ball gown wedding dress is the new rage in the fashion industry right now. Every wedding is a dream wedding if you dress like it's your last day on Earth. That being said, there is a perfect wedding gown for each of you bride-to-be's out there. You just need to be patient, and keep looking. There are a lot of factors that you need to consider while making this important decision. The article pinpoints some of the major things that you need to keep in mind. Your skin-tone, your body-type, your overall personality is distinct from everyone else's – and so should be your dream wedding dress!